Joshua Feinberg (director)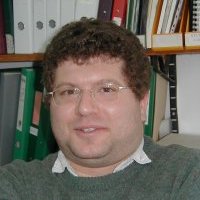 Professor of Physics
Department of Mathematics and Center for Theoretical Physics and Astrophysics,
University of Haifa, Israel.
Tel: ++972-(0)4-6647974 (internal: 7174)
e-mails: This email address is being protected from spambots. You need JavaScript enabled to view it.This email address is being protected from spambots. You need JavaScript enabled to view it.This email address is being protected from spambots. You need JavaScript enabled to view it.
Education:
Technion – Israel Institute of Technology (D.Sc. 1993)
Research:
My current main research focuses on non-perturbative methods in Quantum Field Theory, Random Matrix Theory, and their application to problems in particle and condensed matter physics.
Beyond that, I am also interested in various problems in mathematical physics.
Publications:
Google Scholar, Inspire, Arxiv